Hello!
Not that long ago, I stumbled upon this community and was instantly interested. I have absolutely no idea how I missed out on this! (Okay, it's not as if I've never heard of rags before... I just never realized there were still people using them today.) I decided within a few minutes of reading that I wanted to give this a try, and spent several more days reading and wandering till I came across the lunapad site. I really liked the look of their pads, but I am way too broke to buy any at this time. However, I love to sew - so I thought I'd try something simple and attempt to duplicate their panty liner pad for my own use.
So I downloaded the largest image I could find of the luna panty liner and loaded it into Photoshop were I carefully made a exact pattern of the pad. I printed it onto cardstock and used that as a pattern to trace onto a bit of PUL I had laying around. (I do homecare for someone who is incontinent, and uses LOTS of cloth pads. They wear out after several hundred washes, and we have a stack of them 50 or more. The corners of the pads are still in good shape, so I cut one apart to salvage that part of the liner.)
I used a old 100% cotton shirt in rainbow plaid to cover the liner with a bit of bias tape for the edge, and then another old flannel 100% cotton shirt for the pad. When I sewed the pad I cut two layers and did that inside out and turned it like a pillow so I'd had a smooth edge, then stitched that onto the liner part. I sewed on a snap, and there you go. Here is a photo: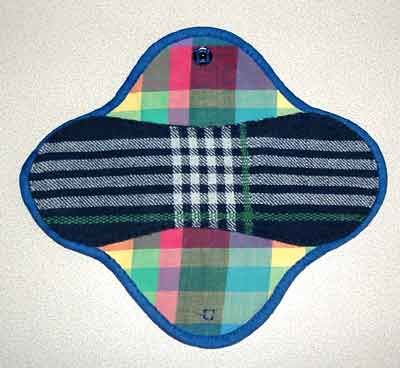 I gave it a quick wash with mild soap and hung it out to dry before I tried it out. It was SO more comfortable than my regular panty liners!
After I was done I decided my panty liner is a bit overkill, but it would work great as a light day pad. I have plans to make a whole lot more. I made a PDF file of my pattern. Since I don't have a place that can host it, I will email it to anyone who wants one. adahygirl at gmail dot com
I also plan to make another pattern for a larger maxi pad when I get the time. I will let everyone know how that goes when it's done. (That will be VERY soon as that time of the month hit a week early. :p I've decided to not use my old throw away pads and use the tri folded washcloth idea until I have something better.
*Edit*
You can download a copy of the pattern here!